Ever since the White House announced a student loan forgiveness plan to cancel up to $10,000 in debt for most borrowers (and $20,000 for others), I've had the idea of $10,000 on the brain.
Most of us don't have $10,000 burning a hole in our pockets. Naturally, if you have this sum laying around, your first response should be to pay off any outstanding debt. It's the most risk-free, straightforward use of your funds. It's also a good idea to pad out your emergency "rainy day" fund. Then there's the generous option of donating it all to charity. For right now, though, let's imagine this is $10,000 exclusively for investing in yourself. Here are some thought-starters for where $10,000 can take you in 2022.
If you want to go on a spending spree
So you've got an extra $10,000. You could split the money several ways, designating some funds for investing in your future, and other chunks for a spending spree right now. We go into the practical side of investing your money below, but first, let's kick off with the fun stuff.
Start a business. According to the U.S. Small Business Administration, most micro-businesses cost around $3,000 to start, while most home-based franchises cost $2,000 to $5,000. Here are questions to ask yourself before embarking on your entrepreneurial adventure.
Travel. Some quick browsing: Economy roundtrip plane tickets from New York City to Rome are a little over $1,500. Reykjavík (that's the capital of Iceland) is around the same price. To Tokyo, $2,500. For brainstorming and budgeting your dream trip, here's how to build out the ultimate travel spreadsheet.
G/O Media may get a commission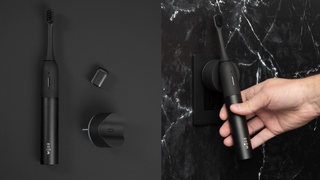 Magnetically Docking
Mode Electric Toothbrush
Luxury brushing
Mode is the first magnetically charging toothbrush, and rotates to dock in any outlet. The brushing experience is as luxurious as it looks—with soft, tapered bristles and a two-minute timer to be confident you reached all the crevices of your molars.
Remodel your garage. With today's real estate market, $10,000 won't take you very far when it comes to buying property—but you could renovate what you already have. According to Rocket Mortgage, a complete garage remodel will cost around $7,000—$15,000, and even small upgrades (like a garage door replacement) can add significant value to your home.
Take online courses. While $10,000 is only a fraction of most university tuition costs, you can opt to enroll in one or two individual online classes at a time. According to U.S. News and World Report, online classes cost $282 per credit hour, on average (most schools require 120 credits to graduate, but you may not be looking for a degree here). This means a full course load of 12 credit hours costs around $3,400 per online semester.
Collect a classic car. Peruse Autotrader Classics to acquire a sick ride in your budget. For instance, a 1981 Chevrolet Corvette was recently listed at $9,750.
Go for an experience. Investing in memories will always mean more than material possessions. Think of all the concerts, shows, and fancy dinners you can afford with an extra 10,000 smackeroonies.
If you want to invest
Now for the practical advice. Like we mentioned at the top, it makes sense to tackle any high-interest debt and then build your rainy day fund. After budgeting that out, it would be wise to use at least some of your $10,000 and learn how to start investing (if you haven't already). Here are some of the basics of investing in your future.
Prep for retirement: Open an IRA
If you don't have a 401(k) plan through your employer, you should open an IRA. You have some options to consider, but we typically recommend going for a Roth IRA in order to take full advantage of compound interest while minimizing your tax exposure. (We recently covered the merits of a spousal IRA, too.) In 2022, you can contribute up to $6,000 per year into an IRA, or $7,000 per year if you are 50 or older.
Prep for healthcare costs: Open an HSA
A health savings account (HSA) is the wise choice for setting aside your funds tax-free in order to pay for approved medical expenses.
Note: You can only open and fund an HSA if you have a high-deductible healthcare plan. You can contribute up to $3,650 to an HSA in 2022.
Typically, the option to open an HSA will be offered by your employer. But if you don't have employer insurance, you still have options. Here's our guide to opening and funding an HSA.
Invest in mutual funds and ETFs
If you're new to investing, mutual funds and ETFs are considerably less risky than other forms of investing, like building a stock portfolio, buying bonds, or getting into crypto. Instead, mutual funds and ETFs are both types of collections (or "baskets") of individual stocks or bonds which are professionally managed by a provider like Vanguard. Here's our guide to building an easy "set and forget" investment portfolio.
According to Forbes, if you were to earn a 10% return on your investment every year for 30 years, your $10,000 could grow to $174,000. Next article coming up: How to creatively spend your $174,000.
Credit: Source link