A suburb in Manchester let artists loose on shop shutters and walls. Now it hopes to inspire other towns to do the same
"Withington could become known for it," says Ed Wellard, one of the founders of Withington Walls, a project based in the Manchester suburb of Withington. 
He heads up a group of people doing what they can to brighten up the neighbourhood, by creating art on shutters and walls. 
"The intention is to create a sense of place, of vibrancy and character through an injection of colour and street art," says Wellard. "We think it could become an inspiration and a source of pride to local people."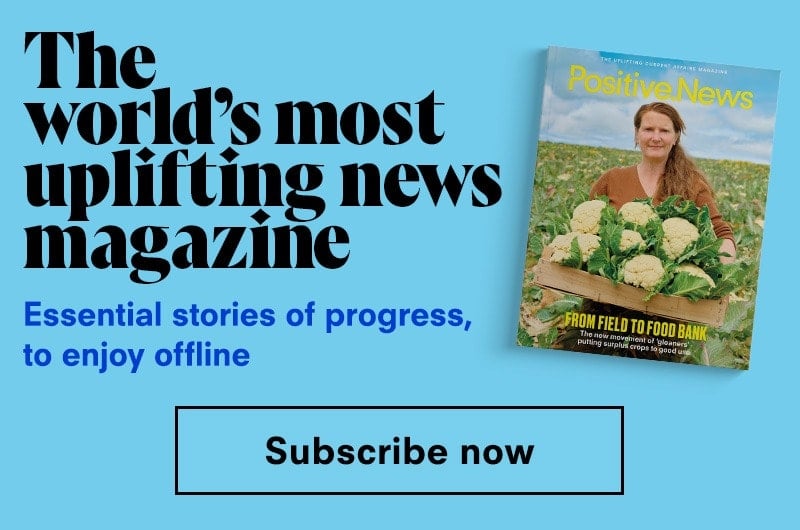 Since the project started 18 months ago, a wide range of artists have painted more than 45 shop shutters and have created 15 murals on walls.
"It has really changed, for the better, how the village looks and feels," says Wellard.
Main image: Ed Wellard
This article is the latest in our 'reinventing the high street' series. In recent weeks, Positive News has been shining a light on the people, places and projects that are breathing new life into the UK's town and city centres as many retail giants abandon them. 
Help us continue to break the bad news bias
Positive News is helping more people than ever to get a balanced view of the world – one that supports their wellbeing and empowers them to make a difference towards a better future. And as our audience and impact grows, we're showing the rest of the media that good news matters.
But the UK's cost of living crisis is hitting us hard, with fewer people able to commit to a magazine subscription – which has traditionally been our main source of funding. Plus, paper and printing costs keep rising.
We don't want to put a paywall on our website, because we believe everyone should have the chance to benefit from good news. But we won't be able to continue funding our online reporting without your help.
If you value what we do and can afford to, please consider making a small, regular contribution as a Positive News supporter. We need 1,000 readers to contribute just £3 per month to get us through this challenging time.

And remember, as a not-for-profit, we work only in service to you, and all funds go towards our journalism.
SUPPORT POSITIVE NEWS NOW
Credit: Source link