Let me be the first to point this out: It's too hot. With many areas of the country suffering through excessive heat warnings, it's crucial to make sure your air conditioner runs as effectively as possible. This is assuming, of course, you already took the steps to get your AC unit ready to run all summer long. After all, we're in for a scorcher.
When you're already dealing with the heat, the last thing you want is the frustration of a faulty AC unit. Sometimes your air conditioner turns on, and your thermostat is set to the desired temperature, but it still doesn't feel like the unit is actually cooling your home. While many AC unit problems require a professional, there's a good chance you'll be able to successfully resolve this issue on your own. Here's what to do when your AC unit will turn on but won't effectively cool your home.
Clean or change your filter
An old or dirty air filter could be preventing your AC unit from blasting cold air properly. To test if your filter needs to be rinsed off or replaced, remove the filter and check if you can see through it. If all you can see is a bunch of dust and pet hair, it's time for a change.
Check for blocked vents
There could also be dirt or dust build-up in the vents that blocks the unit's airflow. Wiping them down is a quick fix to give the cool air a path to get out. Although it might seem obvious, you should also make sure that your AC unit is placed so that no furniture or solid objects are blocking the airflow right outside the vents.
G/O Media may get a commission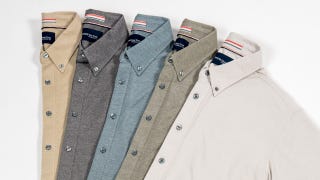 Summer Styles
All these shirts are $26 with a Kinja exclusive deal.
Side note: When adjusting your vents, you want all the air to be blowing down during the hot summer months. (In the winter, you want to pull the air up.)
Clear the area around your outside unit
Another reason your system might not be cooling is due to a blocked air condenser. Head outside and clean around your outdoor unit, removing any debris that could be blocking air circulation. You might need to trim back bushes and pull weeds that have grown up around the unit. Aim to clear about 24 inches of space around the the unit to allow for proper air flow.
When to call an HVAC professional
If you've done all you can and your AC unit still isn't cooling your home, you might need to invest in a professional or a whole new unit. According to USA Today, a major sign it's time to call a technician is if you see icing on your outdoor unit. You may have a problem with the charge or a frozen evaporator coil; shut your unit off and call an HVAC professional.
There's also the possibility that your current air conditioner isn't strong enough for the size your home in this heat. You might need a larger AC system in order to get your place down to the desired temperatures. In the meantime, here are our tips to stay safe during a heat wave.
Credit: Source link