The animals were released in Kent this morning to boost biodiversity and tackle the climate crisis. The timing is pertinent
Bison are roaming England again for the first time in thousands of years, marking a "new dawn for conservation and the fight against climate change". 
Three female European bison were released in West Blean and Thornden Woods, Kent, this morning on what is predicted to be the hottest day ever recorded in the UK. A male is set to join them. 
The breed is the closest living relative to the ancient steppe bison. Like beavers, the animals are one of nature's great engineers; by naturally felling trees and disrupting the earth, they create woodland habitats for butterflies, beetles and other species. Those behind the £1.1m Wilder Blean project say it will breathe new life into the ancient woodland and help the ecosystem absorb more carbon. 
"Today heralds a new dawn for conservation and the fight against climate change," said Paul Whitfield, director general of Wildwood Trust, one of the organisations behind the release. "With this project, we're going to prove the impact bison in the wild can have on the environment. They will create an explosion of biodiversity and build habitat resilience; locking in carbon to help reduce global temperature rise."
The three bison will eventually have 500 hectares (1,200 acres)  to explore, but are currently confided to a much smaller site to allow for acclimatisation. They will be joined by other grazing animals, including Exmoor ponies, Iron Age pigs and Longhorn cattle, whose natural behaviours compliment the bison and will help to manage the landscape without the need for human intervention. All animals will be monitored by Kent Wildlife Trust.
Bison were hunted to extinction in the UK thousands of years ago. If the project in Kent is deemed a success, the animals could be reintroduced to other regions.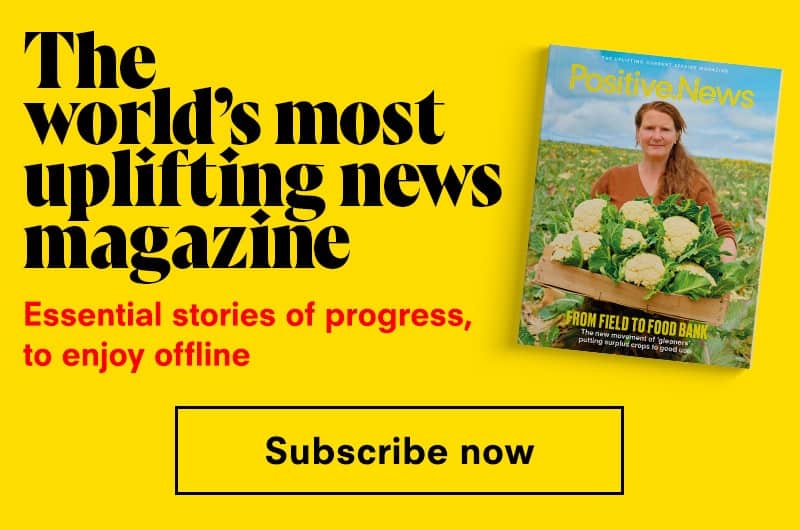 Evan Bowen-Jones, chief executive officer at Kent Wildlife Trust, said: "We want Wilder Blean to mark the beginning of a new era for conservation in the UK. We need to revolutionise the way we restore natural landscapes, relying less on human intervention and more on natural engineers like bison, boar and beaver."
He added: "Equally important, is that the Wilder Blean project will connect people with nature in a way that hasn't been possible before in the UK. We hope that those who visit the woodland and learn about the project will be inspired by what we are doing and become champions for nature too."
Main image: Kent Wildlife Trust
Help us continue to break the bad news bias
Positive News is helping more people than ever to get a balanced view of the world – one that supports their wellbeing and empowers them to make a difference towards a better future. And as our audience and impact grows, we're showing the rest of the media that good news matters.
But the UK's cost of living crisis is hitting us hard, with fewer people able to commit to a magazine subscription – which has traditionally been our main source of funding. Plus, paper and printing costs keep rising.
We don't want to put a paywall on our website, because we believe everyone should have the chance to benefit from good news. But we won't be able to continue funding our online reporting without your help.
If you value what we do and can afford to, please consider making a small, regular contribution as a Positive News supporter. We need 1,000 readers to contribute just £3 per month to get us through this challenging time.

And remember, as a not-for-profit, we work only in service to you, and all funds go towards our journalism.
SUPPORT POSITIVE NEWS NOW
Credit: Source link