The UK is one of the biggest producers of e-waste in the world. Can 'fixing factories' help turn the tide? Campaigners think so – and want to open one on every high street
The UK's factories were the engine rooms of the Industrial Revolution, introducing the world to new ways of working, making and consuming. Can two 'fixing factories' in London help do the same for the burgeoning circular economy? 
Due to open in Camden and Brent this spring, the facilities will produce nothing. Instead their volunteer workforce will repair people's broken electronics on a pay-what-you-like basis. They will also offer workshops and training, to empower people to repair their own items.  
"We'll turn the Fordist factory on its head and forge new spaces for fixing, learning, curiosity and empowerment," said the Restart Project, the repair charity involved in the project.  
With a cost of living crisis looming in the UK, fixing factories are arriving at a good time. But breathing new life into old items doesn't just save people cash. It also reduces emissions from new products and helps stem the rising tide of e-waste, which is piling up at landfill sites the world over. 
The UN predicts that the world could generate up to 120m tonnes of e-waste annually by 2050. Much of it will accumulate in the global south, where the west dumps a chunk of its refuge. With environmental and safety standards in some developing nations leaving a lot to be desired, the waste poses a threat to people and planet.
Enter fixing factories. They aim to fundamentally change our relationship with used electronics, while boosting ailing town centres. The Camden facility will open in a prominent spot along the high street; the aim is to have a fixing factory in every town.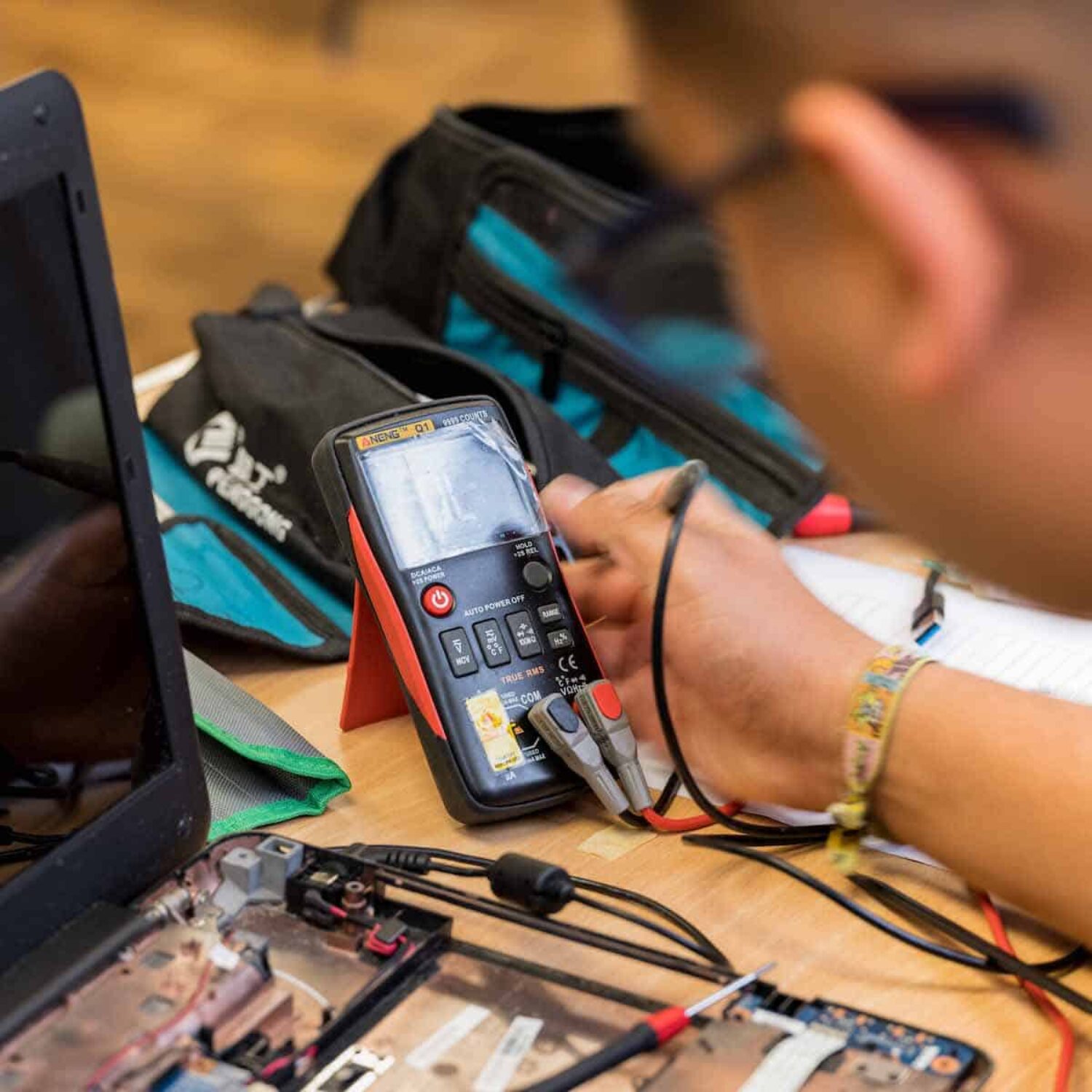 The factories were inspired by the Restart Project's 'fixing parties', where people are invited to have their faulty items repaired over a cuppa or a beer.
"Camden is where we ran our first party almost 10 years ago, and we've enjoyed bringing our events to pubs, community centres, churches, festivals, universities and other venues," Fiona Dear, the charity's co-director, told Positive News. "We hope the local fixing factory will provide an opportunity for residents to be even more involved with our work."
The idea to launch fixing factories came from the climate charity Possible. A £190,000 cash injection from the National Lottery Community Fund helped get the project going. Other partners include the London Waste Authority, Mer-IT Digital training school and Ready Tech Go, a grassroots group that repairs faulty laptops.
Although most of the people working at the factories will be volunteers, three paid positions are available through the Restart Project, Possible and Ready Tech Go. Waste, evidently, pays. 
Main image: The Restart Project/Mark Phillips
Credit: Source link